Kat Torres: under the influence
Another online influencer is arrested for human trafficking, and for ayahuasca-fuelled 'shamanic charlatanism'
Over the next few weeks we're going to look at some stories of 'psychedelic Rasputinism' – people and organisations using psychedelics to control people and exploit them for financial gain. There are over 200 new psychedelic churches in the US – some have hundreds of members, others less than 10. There's lots to celebrate in that, but some will be abusive cults, who will use psychedelics to control and indoctrinate their followers.
Which brings us to the weird story of Kat Torres, a model, wellness influencer and former date of Leonardo DiCaprio, who went on to run an ayahuasca-fueled witches coven, until she was arrested in November for human trafficking and 'shamanic charlatanism'. It's been a huge story in Brazil, but hasn't yet been covered in English. It's a lurid, trashy, true crime story, perfect for Netflix, but it highlights some serious points, which I'll come back to at the end.
Kat Torres was born October 24 in 1992 as Katiuscia Torres Soares, in a favela in Belem, capital of the northern Brazilian state of Para. This was her home, on the left.
She was born blonde and beautiful, and started modelling when she was 7. She says she suffered sexual abuse beginning at that age. She competed in beauty contests at the local, state and then national level.
She signed to the Elite modelling agency, and started to live an international and externally-glamorous life, doing photo shoots around the world, though she also says she was abused by powerful men in the fashion industry.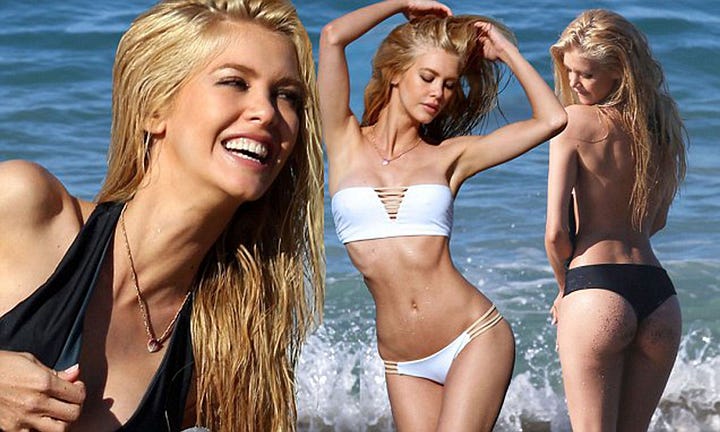 In 2013, when she was 21, she moved to live in Paris. At the Cannes festival that year, she was papped with Leonardo DiCaprio. She talked about their relationship in an interview: 'Leo is amazing, but I worry about what he will think about me talking to you. We have a pact that nothing can ever be said about our relationship.'  DiCaprio denied they had any sort of relationship, but nonetheless, she became a cover girl as 'DiCaprio's new blonde':
In her late 20s, she moved to New York, took acting lessons, and then moved to Los Angeles. Her acting career didn't take off, but she amassed a lot of followers on social media, with selfies pared with motivational messages about living your best life.  
In 2015 she had a crisis. Her mother died of cancer, and then she fell seriously ill with a bacterial infection, which led to Kat having her left breast removed in surgery. She shared her 'healing journey' with her social media followers.
It was at this time that she first tried ayahuasca, the hallucinogenic brew made in the Amazon jungle. She said she joined a Los Angeles ayahuasca community where she would drink it once a month, sometimes leaving her body for 13 hours, so she claimed. She also claimed that, while on ayahuasca, she could visit the dead, speak to Jesus, and also communicate with her social media followers.
She re-invented herself as a wellness coach, medium, and witch to her online followers. She offered spiritual coaching sessions to clients on Skype for $100-300 an hour. She claimed she could read their minds, see their past and future lives, and help them to manifest a perfect life likes hers.
Her clients were all Brazilian women enraptured by the dream of an American visa, an American husband, an American salary, holidays in luxury hotels, and Instagram photos of them living their best life in infinity pools – just like Kat Torres. She could help them manifest this, become more 'spiritually evolved', develop their supernatural capacities.
She was a master of 'parasociality' – the ability to make strangers on the internet feel like they are engaged in a genuine, intimate and reciprocal loving relationship with you, the online influencer. You can pay the glamorous model to be your 'close friend'
This is something that all online influencers do, but Kat took it to Svengali-like extremes, shooting photos of her talking to followers while in the shower, urging them to gaze into their eyes, cooing into the camera…
In 2017 she wrote a book called A Voz (The Voice), claiming to channel a voice, or many voices – God, Jesus, Mother Mary, aliens, the dead. She started a page for her channeling, called Kat Luz. She went on a Brazilian tv show to promote the book. The presenter clearly thinks she's bizarre, as she describes how she can read his mind and the minds of all the audience. She also describes her experiences with ayahuasca, which she has trouble spelling.
In 2019, her persona of Love and Light cracked somewhat, when she got divorced from her American husband, who she now declared was a toxic and abusive person. This didn't fit very well with her message that you can Manifest whatever you want if you have a positive enough attitude, but then, life coaches' personal lives are often far from perfect.
Her coaching career was not going very well either – followers complained they didn't receive what they paid for. She was becoming less of a saccharine Disneyfied poster-girl for Love and Light, and more of a contrarian and controversial figure, especially during the pandemic. She denied COVID was real, and told her followers not to obey quarantine. In general, she told her followers not to respect modern science, not to take psychiatric medicine, she could cure them all with magic.
In 2020, she married for a second time to a young American man called Zach Menkin, 11 years her junior, with a tattoo of Africa on his chest.
She posted a lot of photos of herself and Zach, cooing over what a 'perfect specimen' he was, and how she planned to create perfect babies with him, one of whom would rise to become president of the United States. The two were living in a van at this point, but Kat was still posting photos of their glamorous life to her hundreds of thousands of followers.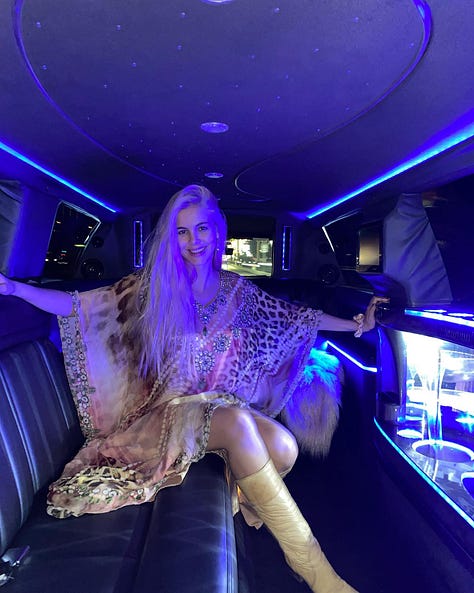 They drove across the US during the pandemic in their van (God knows how they fit themselves and their eight animals inside, including a large husky and a cat). Kat raised funds doing online consultations for her clients. They arrived in New York, where Kat's most devoted fan was waiting for them – Leticia Maia Alverenga.
Leticia was an 18-year-old Brazilian woman who suffered from depression. She'd been following Kat and idolizing her since she was 13. She became a client of Kat's when she was 17, paying for the expensive spiritual coaching consultations with money she made doing make-up. When she was 18, she moved to New York to work in an au pair programme. She started to ask her parents in Brazil to send her thousands of dollars – to buy a car, to open a candy store. They refused, and abruptly she cut off all contact with them, and disappeared. It turned out she had gone to live with Kat, Zach and the eight animals in their van.
Online influencers talk about the 'marketing funnel' – you're trying to funnel followers into higher levels of engagement and loyalty, and to find the followers that will pay anything and do anything for you, the super-fans.
Well, Leticia had fallen all the way down the marketing funnel and ended up in a cult.
In 2022, Kat summoned another loyal follower to upgrade to Total Fan – 26-year-old Desirre Freitas. 
Desirre was another Brazilian woman with big dreams. She lived in Germany with her husband, and worked incredibly hard, dreaming of setting up her own business. She tried everything to actualize her dream, meditating, signing up for Tony Robbins courses, and then becoming a client of Kat Torres.
She became more and more possessed by Kat's seductive story of her supernatural potential, eventually spending the money she was saving to start her business on sessions with Kat. Desirre's husband complained about Kat's influence, so Kat turned Desirre against him, telling her he was practicing black magic against her, and she would never fulfil her dreams unless she ditched him. Instead, she should move to the US and join Kat's witches coven. Upgrade to platinum level fan! So she was sucked down the marketing funnel and into the cult as well.
What was going on in their witches' coven? It was a very weird scene, by all accounts. Leticia and Desirre both dyed their hair blonde to become mini-Kats, like something out of David Lynch's Mulholland Drive.
They would take part in rituals, possibly involving ayahuasca – there's one video where Kat makes an 'alien bath' for Leticia, who smiles in the background while sipping a brown liquid that may be ayahuasca. There also seems to be a certain amount of unpaid drudgery involved.
Kat, meanwhile, was becoming increasingly psychotic. She claimed to be God, to be an alien queen, to be able to control the police, to be the only one capable of stopping the war in Ukraine.
She got Leticia to make a video calling for Putin and Mark Zuckerberg to contact her immediately. She made videos of herself stumbling around her house doing 'magic' to protect her husband from spiritual attack. There's also footage, below, of her trying to kill her husband's family with curses.
The rest of this story is only available to paid subscribers. All subscriptions support the work of the Challenging Psychedelic Experiences Project, which researches adverse effects of psychedelics and what helps people deal with them, as well as highlighting issues of psychedelic ethics. Subscribers also get a free copy of the intro to Breaking Open: Finding a Way Through Spiritual Emergency. We have a great interview with Adam Aronovich / @healingfromhealing which we'll post this weekend.
Kat's followers became increasingly concerned about her, and some formed a Whats App group – when she found out, she threatened them with black magic as well.Meanwhile, Desirre and Leticia were slaving away for their alien queen. Photos of them appeared on escort websites like 'Sugar Baby'.
Other followers seem to have been sucked down the marketing funnel into the cult. One Brazilian woman was summoned to the US by Kat, worked for a month in her house without pay or holidays, and then was sent to work in a strip club, at which point she left. Many other followers worked unpaid for Kat, on her fashion brand, her web pages and other services, and never got paid. Clients said they paid for sessions they never received.
By 2022, the families and friends of Leticia and Dessire were very concerned that the girls had become brainwashed in a drug cult by a psychotic influencer, and that their lives could be at risk. They started social media campaigns to find the girls and bring them home.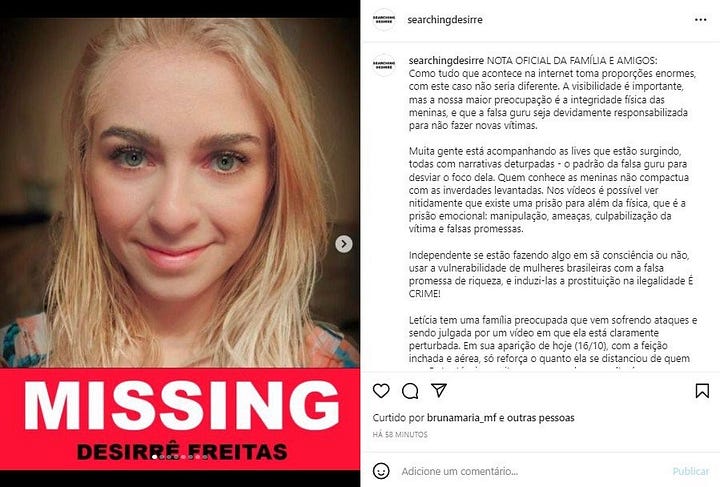 At this point, the story became national news.  Leticia and Dessire made videos insisting they weren't enslaved and demanding their families leave them alone. Leticia accused her father of abusing her and her mother of enabling the abuse – which they denied. They were both interviewed on Brazilian news, where they behaved strangely and sometimes took direct dictation from Kat off-camera. Another famous model, Yasmine Bunuel, got involved and accused Torres of abusive behaviour, at which point the girls accused Bunuel of trafficking them.
In November 2022, the witches' caravan attempted to cross the border into Canada, at which point they were arrested for visa irregularities. Kat, Leticia and Dessire were deported to Brazil, where Kat was arrested on charges of human trafficking, fraud and 'shamanic charlatanism'. She's currently in prison in Belo Horizonto, awaiting trial.
Meanwhile the girls are now back with their families, and back with brown hair. Leticia has taken back her allegations of sexual abuse against her father. Dessire announced last month she has a book deal for her story. Zach Menkin launched a crowdfunder to pay for rent and food for his and Kat's 'eight animals'. So far he's only raised $80. And Kat Torres? No word yet, but the trial is sure to be a circus.
What are we to make of this true crime saga? It's notable that Kat is one of two famous online influencers to be arrested for human trafficking in three months – the other being notorious misogynist Andrew Tate, who was arrested in Romania after persuading followers to do sex work for him online. In both cases, it may be hard to prove the online influencers are human traffickers – their slaves were there of their own 'free will', as they had become groomed and manipulated by an abuser.  In Kat's case, the abuser was herself abused, and seems damaged, cracked, and psychotic. That's not uncommon among cultish influencers.  
The Kat Torres case raises the problem of psychopathic gurus using psychedelics to control and enslave followers – something several other cults have done in the past, from Charles Manson's family, to the Aum Shinrikyo cult in Japan, to 'The Family' in Australia. It also shows the voodoo of the internet and social media – both of which are mind-altering technologies that manipulators / influencers can use to hypnotize, entrance and enslave followers. People fall for 'glamour', a word with etymological roots in magic, enchantment, a spell that makes people fall for things that are not real. That's social media influencing in a nut-shell.
Thanks to the Brazilian reporters whose work we drew on for this story especially this YouTube channel, which mainly makes content for Brazilian women living abroad, and which made a great two-part four-hour documentary about the Kat Torres case. You can watch it with English subtitles switched on. Well worth a watch.
********
In other psychedelic and ecstatic harm reduction news:
We had a great response to Ed Prideaux' piece on psychedelic addiction. This story in the New York magazine explores the story of the assistant to Hamilton Morris, who died of a drug overdose and also reportedly suffered from hallucinogen-use-disorder.
Sad news that Synthesis Institute, one of the leading mushroom retreats in the world, may be facing financial difficulties and even possible bankruptcy - it made a big play to enter the Oregon psilocybin therapy market, but that entire initiative seems to be plagued with serious legal and financial issues and I wouldn't be surprised if the nascent Oregon psilocybin market closes, with countless wannabe healers losing a lot of money in the process.
It's time to rethink the idea of 'the indigenous', according to the New Yorker.
The NHS in the UK is trying to wean people off painkillers and antidepressants - prescriptions for the latter rose 8% last year, which has more or less been their annual growth for the last several years. One in five Brits are now prescribed mood-altering medication, all of which can be dependency-forming.
Finally, you may have seen the new film 'Cocaine Bear'. What about cocaine hippos??
That's all. We'll post our interview with Adam Aronovich in the next few days. And we're excited to launch a crowdfunding project for our research later this month - stay tuned.